Christmas Holiday Light Show in Pasadena, Glendale, Burbank & La Canada
Welcome to Santa's Speedway!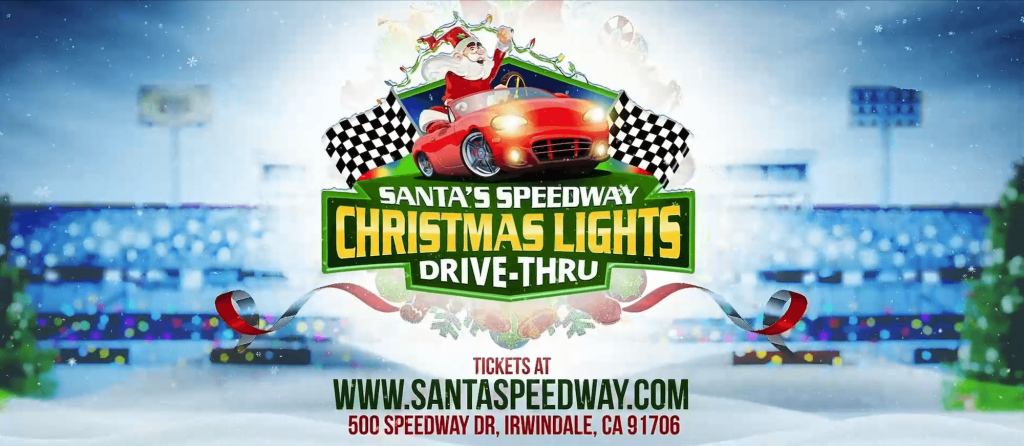 If you're looking for Christmas Activities in Pasadena, Glendale, Burbank & La Canada consider visiting Irwindale Speedway for our Holiday Light Show! We've transformed the Speedway into a magical display of lights and attractions including a record-setting Christmas Tree of lights towering over 110 feet! Constructed with over 12 miles of lights and cabling. With over 100,000 programmable LED lights, this Christmas tradition will surely grab Santa's attention this Holiday Season! This family-fun Christmas activity is safe for the whole family!
Starting November 25th and ending January 10th, Santa's Speedway costs $75 per car-load with a maximum of 8 occupants per vehicle. You'll get to experience this amazing holiday light show from the safety of your own vehicle! Space will be limited, though, so click "Buy Tickets" to select your day and time!
Drive through Santa's Village, a land of Christmas Sweets, an "ocean" of lights with a nautical theme, and, a "Camping Christmas" of RVs with their own Christmas lights! This safe Christmas activity is ready to serve drivers from Pasadena, Glendale, Burbank & La Canada.
CLICK BUY TICKETS at the top of the page!
Zip Codes
Pasadena: 91101, 91102, 91103, 91104, 91105, 91106, 91107, 91108, 91109, 91110, 91114, 91115, 91116, 91117, 91118, 91121, 91123, 91124, 91125, 91126, 91129, 91182, 91184, 91185, 91188, 91189, 91199
Glendale: 91201, 91202, 91203, 91204, 91205, 91206, 91207, 91208, 91209, 91210, 91214, 91221, 91222, 91224, 91225, 91226
Burbank: 91501, 91502, 91503, 91504, 91505, 91506, 91507, 91508, 91510, 91521, 91522, 91523, 91526
La Canada: 91011, 91012, 91020, 91021